Read about Our upcoming and previous events below!

Corporate Corner with Bayer on October 10th – Register now!
In October Corporate Corner will explore and discover novel collaboration opportunities with Bayer. During the event we will improve partnership awareness and inspire exchange between academia and industry. During the event, researchers can present their ideas, findings or technology to Bayer representatives for possible further collaboration.


Corporate Corner — In Collaboration with InFLAMES
Corporate Corner and InFLAMES Research Flagship are collaborating to organize an upcoming event series. InFLAMES belongs to Academy of Finland Flagship Program and is Finland's strongest cluster of immunological expertise.
Next InFLAMES Corporate Corner – November 2022: Immunoprofiling and Immunodrug Development
3rd InFLAMES Corporate Corner – June 17th 2022: Diagnostic technologies and applications in immunology
The third event introduced the latest diagnostics technologies in immunology as well as various insights on how to promote industry-academy collaboration. The speakers were from the following: InFLAMES Research Flagship, PerkinElmer, Kaivogen Oy – part of Uniogen and ArcDia International.
2nd InFLAMES Corporate Corner - March 11th 2022: Ecosystem Services
The second InFLAMES Corporate Corner event introduced high-quality open infrastructure and its benefits to academy-industry collaboration. The goal of the event is to inform the participants about these unique collaboration opportunities. The event was held hybrid.
1st InFLAMES Corporate Corner - December 16th 2021
The first Corporate Corner was held as a hybrid event to introduce InFLAMES Flagship and explore collaboration opportunities to the business sector and discuss future events.
Corporate Corner — In Collaboration with AstraZeneca
Corporate Corner is back! This time Corporate Corner introduced AstraZeneca. Morning session focused on translational research powered by cutting-edge technologies. The expert lectures were followed by a round-table discussion on how to succeed in Academia-Pharma collaboration. In the afternoon we again invited researchers to discuss with AstraZeneca representatives about possibilities to collaborate, and students to hear about career opportunities AstraZeneca can offer.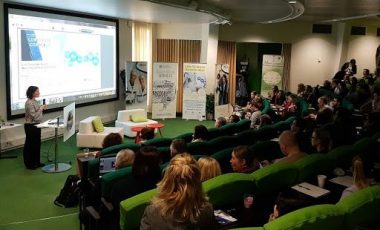 Corporate Corner — In Intoa! Competition
Corporate Corner placed in top-four in The Entrepreneurial Act of the Year, Intoa Competition. The award is given as an encouragement and acknowledgement to a person or group who has successfully and independently promoted entrepreneurial attitude and activities in the University. Corporate Corner pitched as a joint business co-operation concept of the University of Turku and Åbo Akademi University.
Corporate Corner — In Collaboration with MSD
Corporate Corner organised in collaboration with MSD Finland focused on health technology and research: from basic research to clinical trials, Real World Evidence and pharmacoeconomics. Novel collaboration possibilities were discussed especially within the fields of research on oncology, diabetes, cardiovascular diseases, immunology and infectious diseases. The event also included a section for discussing career opportunities at MSD.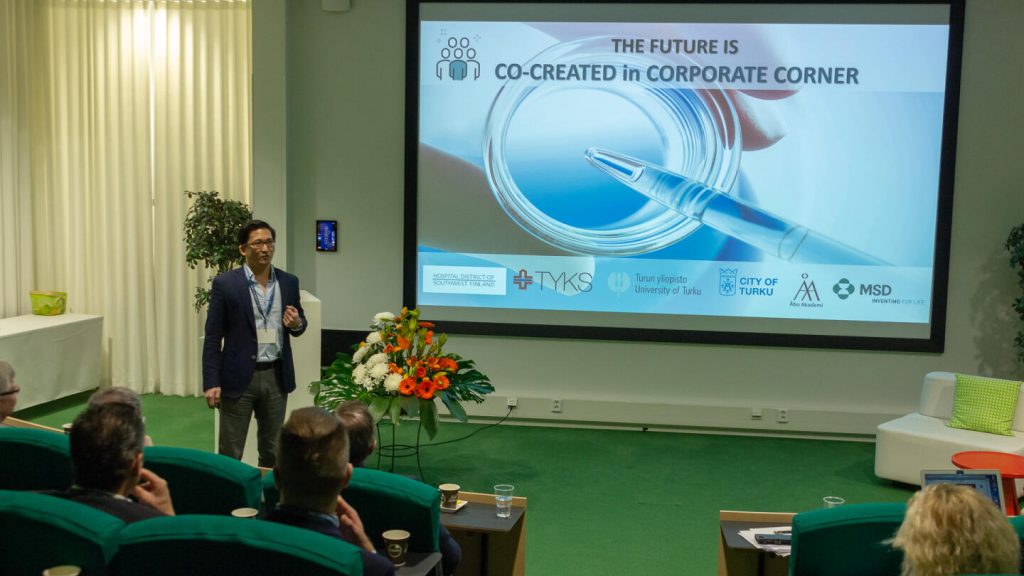 The First Corporate Corner — In Collaboration with Orion Pharma
The series started with scientists from Orion Pharma presenting their company's research strategies and current focus areas and how they would like to foster interactions with scientists and research infrastructures. Later in the spring this was followed by the Corporate Corner Open Session, where scientists from academia and pharma met for informal workshops to interact and share ideas.
" Very useful, this kind of discussions are needed. "

Teijo Saari, Associate Professor

 

 

 

 

"The event was great and unique. This is my first experience to see industry people talking about their work and problems and looking forward for collaboration."

Kuldeep Bansal, Senior Researcher

 
Learn more about how the planning process moves forward and what Your event could look like!